Download Awesome Duplicate Photo Finder
Most of our folders are flooded with duplicate or similar images resulting in loss of storage space. I've searched a small and useful tool, which allows users to easily Sort duplicate Image files from a folder, let them Find and Remove Duplicate Pictures and Photos.
Awesome Duplicate Photo Finder is a free powerful tool, that helps you to find and remove duplicate photos on your PC. With this program you can easily clean up your photo collection from duplicates or even similar pictures.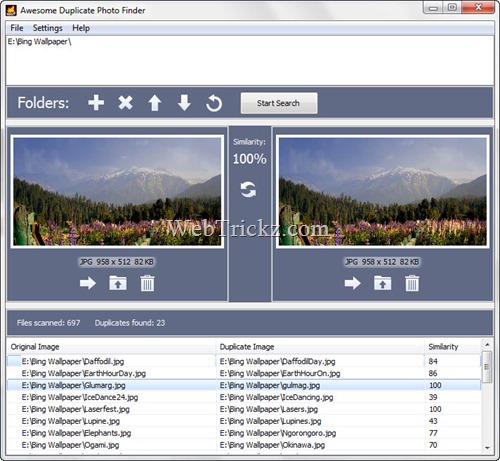 The program is able to compare pictures that was resized or pictures with corrected colors (black and white photos etc.). It supports all major image types: JPG, BMP, GIF, PNG. To use it, just 'drag and drop' folders to it and click 'Start Search' button. Look for most similar images, move or delete them.
By Mayur Agarwal on Jun 07, 2010
Original review at WebTrickz.com